Louth Company Open Hydro Opens its Doors to Provide Students from Bush Post Primary School with a Glimpse of the Working World Business in the Community Ireland's (BITCI) Skills @ Work Programme gives secondary school students the unique opportunity to visit and experience the workplace
Today Open Hydro opened its doors to secondary level students from Bush Post Primary School in Riverstown, Dundalk as part of BITCI's Schools' Business Partnership (SBP) Skills @ Work Programme, an initiative that encourages school completion by partnering local businesses with schools to provide senior cycle students with the unique opportunity to visit and experience first-hand the workplace. 13 students were given a guided tour of the facility by company employees and gained an insight into the many career opportunities that exist in the Renewable Energy Industry.
Representing Open Hydro who have been established in Greenore since 2007 and employ 130 of people across the region, Claire Ferguson, Human Resources, Open Hydro commenting on today's visit and the benefits of partnering with Bush PPS said:
"Open Hydro are delighted to welcome students from Bush Post Primary School to our facility today. We hope that it provides the students with an insight into various careers and what we do here in Open Hydro on a day to day basis. This is a great project that gives our employees the opportunity to support a local school by providing this unique and practical insight into the world of work. Employees further have a great opportunity to showcase their skills and enthusiasm about where they work."
Feedback from participants indicates that the workplace visit is one of the highlights for students involved in the Skills@Work programme. As well as giving the students a taste of the working world, they also experience important skills such as workplace etiquette and expected behaviour in a professional environment, one of the major adjustments needed in moving from school to the working environment.
Síofra Hanlon from Bush Post Primary School speaking at today's workplace visit said:
"I really enjoyed seeing how everything worked and seeing people at work. It gave me a realistic view of what working here is like and what is expected from you."
The site visit is one of a number of sessions in The Skills @ Work Programme. The programme also provides CV workshops, 'A Day in the Life' talks, mock interviews, company overviews, interview skill techniques as well as sessions on organisational skills and teamwork. Feedback from participant companies indicates that employees are gaining a huge amount from participating in the programme, including improving their own listening, communication and interpersonal skills. The programme is importantly helping the companies engage with their staff and local communities. Employees at Open Hydro are committed to assisting students at Bush Post Primary School recognise the value of completing the Leaving Certificate and helping them explore possible career paths.
Jessica Daly, the Co-ordinating teacher from Bush Post Primary School speaking about the standard of today's visit added:
"The students were given an excellent presentation into working life at Open Hydro with lots of visual displays and a very interesting tour of the business that really brought what they have learned to life, it's obvious that Open Hydro went to enormous effort to make the experience as informative and enjoyable as possible."
Funded under the National Development Plan, The Schools' Business Partnership (SBP) matched 200 post primary schools in Ireland with a local business by 2015.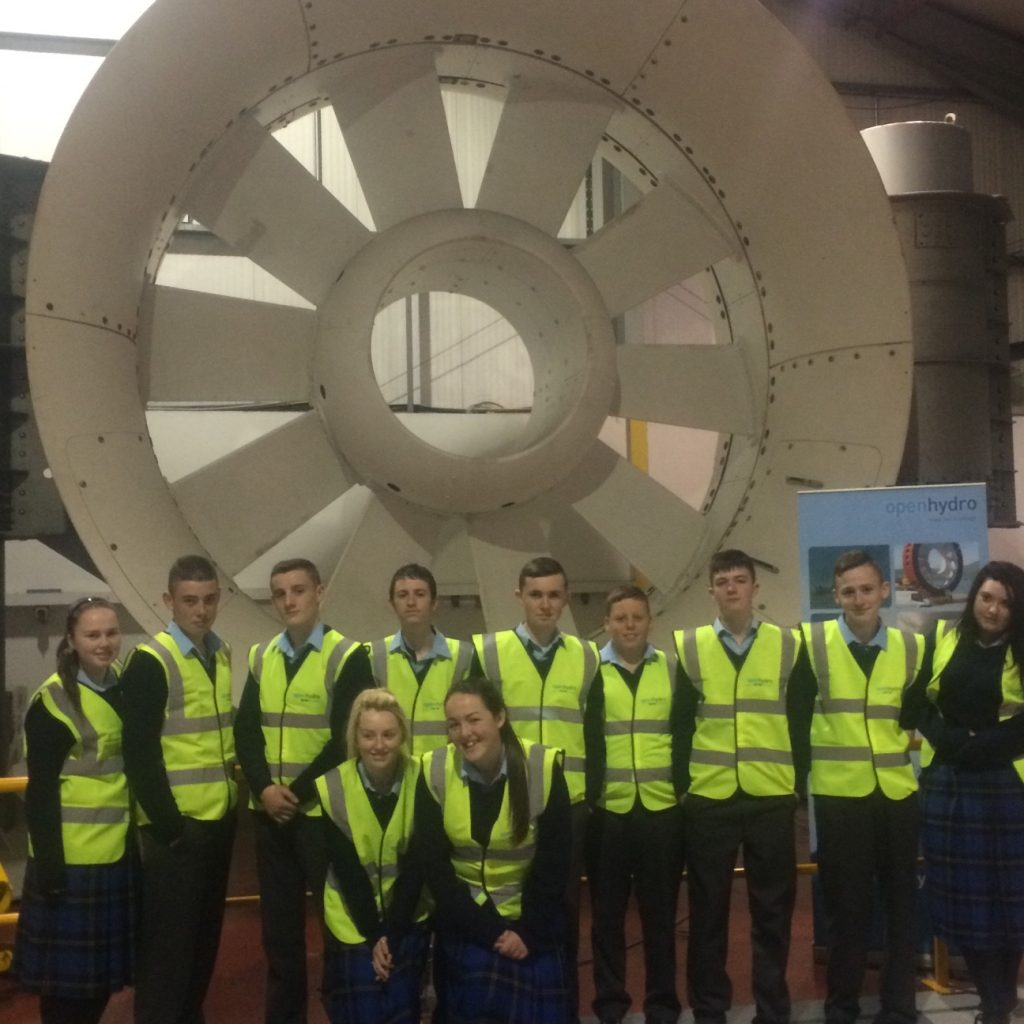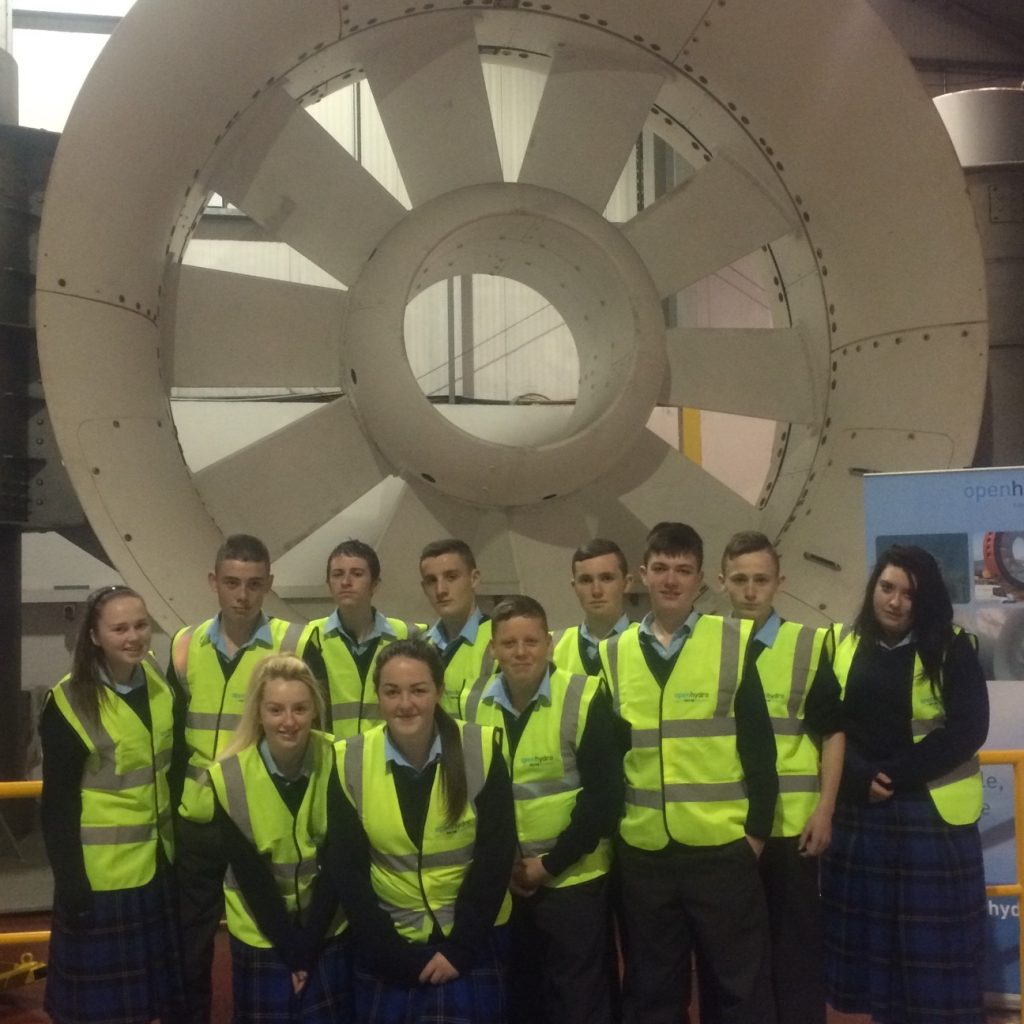 For further information and or interviews on The Schools' Business Partnership please contact:
1 Business in the Community Ireland (BITCI), founded in 2000, is a unique movement of companies committed to Corporate Responsibility practices. Our purpose is to inspire, challenge and support business in continually improving its positive impact on society in the community, environment, marketplace and workplace.
2 Established in 2001, Schools' Business Partnership (SBP) is a flagship programme managed by Business in the Community Ireland (BITCI). It is conducted in association with Marks & Spencer and supported by Cornmarket Group Financial Services Ltd. and Bord Gáis.
SBP Programmes offered include:
(a) The Student Mentoring Programme encourages students who are at risk of leaving school early to continue with their studies with the advice of a mentor at a local business.
(b) The Skills @ Work programme invites employees from local businesses to talk to students about real-life skills required in the workforce, such as interview preparation and CV writing.
(c) The Summer Work Placement Programme, offered in cooperation with the Irish Funds Industry Association, organises short-term job opportunities for students in leading financial services organisations that include PWC, Ernst &Young, Bank of Bermuda and Dexia Bank. The programme also consists of the companies that are matched with schools offering placements to students who have completed the Leaving Certificate.
(d) The Management Excellence for Principals programme sponsored by Cornmarket Group Financial Services Ltd. facilitates skills sharing between business and school leaders. 445 Principals have participated, which represents 61% of all post primary principals in Ireland. Companies whose senior executives deliver these seminars to small groups of principals include: Janssen Pharmaceuticals, Johnson & Johnson, Vistakon, Centocor, Donegal Creameries, KPMG, Coillte, National Irish Bank, Diageo, An Post, Anglo Irish Bank, Vhi, élan, One Direct, CRH, Allergan, RTE, Pramerica, Alza, ESB, Intel, The Kerryman, Musgraves, IMI and IBM
(e) The Management Excellence for Teachers programme is a new pilot programme which is in place in 6 schools. Business leaders provide workshop/seminars t whole teaching staffs on topics identified by the teachers such as: teamwork, communication skills, flexibility skills; PR; time management skills; ICT and education; etc.
(f) Time to Read programme for primary schools. This is a new pilot programme where business volunteers provide reading support to children in 1st/2nd class over a 24 week basis. It is being piloted by 6 schools and 6 companies in Ireland and the pilot is being funded by Bord Gáis. The evaluation report will issue in the Autumn with a view to a potential national rollout.